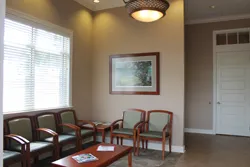 Your first visit with Dr. Donovan establishes a vital foundation for our relationship with you. During your first visit, we make sure to obtain important background information such as your medical history and list of medications, as well as your previous periodontal history. This also allows you to become familiar with Dr. Donovan and his staff. If you have recent radiographs (x-rays), please make sure to have your dentist send them to our office before your first visit. You will be given a thorough exam and the findings will be explained to you in detail, along with all of your options for treatment. We encourage you to ask questions so that you may be completely informed of your options before proceeding with treatment.
We accept patients who are referred to our office by their dentist as well as self referred patients for appointments. If you do not have a dentist, we will be happy to refer to one of the excellent dentists we work with.
Mission Statement
Our practice is working together to realize a shared vision of uncompromising excellence in dentistry.
To fulfill this mission, we are committed to:
Listening to those we are privileged to serve.
Earn the trust and respect of patients, profession and community.
Exceed your expectations.
Ensure a creative, challenging and compassionate professional environment.
Strive for continuous improvement at all levels.
---
Patient Forms
Please print and fill out these forms so we can expedite your first visit:
In order to view or print these forms you will need Adobe Acrobat Reader installed. Click here to download it.
---
What To Expect
Being well-prepared for your appointment will ensure that the doctor has all of the needed information to provide the best possible care for you. It also will help relieve any unnecessary anxiety you may be feeling. Educate yourself on your symptoms by reviewing the content on this Web site. Also, take some time to review our staff page and familiarize yourself with the doctors. We look forward to your first visit.
---
Driving Directions